the Primo health Repairvite gut repair program
Hippocrates said "All disease begins in the gut" which is why our signature program is an anti-inflammatory gut healing protocol that everyone can benefit from in as little as 4 weeks!
full-service online health store with free clinical support.
don't just buy supplements online. We give you Nutraceutical protocols TO HELP guide YOU with more specific nutritional issues!
SCIENCE-BASED PLANS FOR MOST HEALTH CONCERNS
Vitamin and supplement recommendations in our store from functional nutrition protocols that are specific to certain conditions.
integrative with your doctor's treatment plan
Our functional nutrition protocols are designed to support the recommendations of your primary care practitioners, not replace them.
FREE PROTOCOL SUPPORT ONLINE
If you purchase the products recommended in our protocols from our online store, you will get free support from the clinical nutritionist through our telemed platform as long as needed.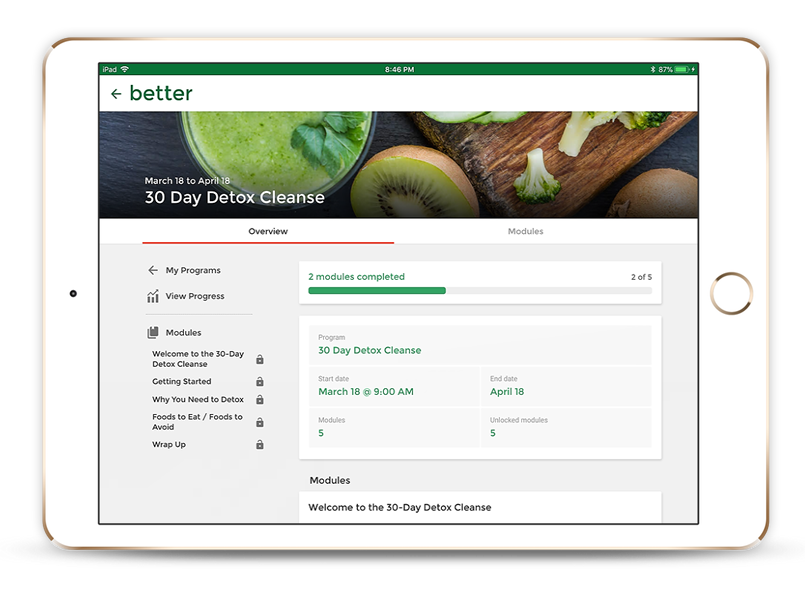 CUTTING-EDGE ONLINE TELEMED PLATFORM
With over ten years experience guiding our clients in resolving chronic health concerns, we've created a science based and user friendly process to get you to feeling your best with the help of the BETTER app.
Online Patient Portal for secure communications and educational counseling (HIPAA compliant)
Our most successful protocols in an online format (free when you purchase the products recommended in your protocol)
Our blog, handouts, recipes, shopping lists and more
And our most valuable benefit is free protocol and product support with our clinical nutritionist through the chat feature on the BETTER app (must purchase the products through our online store).
You can access your client portal from your desktop, tablet or phone!
still have questions or concerns
Click on the chat bubble below to chat directly with the clinical nutritionist or book a free DISCOVERY CALL