Become your own Health Champion™ with assistance from Detox 360°™
ThE DETOX 360°™ PROTOCOL 4 WeEK PROGRAM
The Detox 360°™ program is an integrative clinically tested detox system. It can help you look great, renew your health, and energize your life!
This protocol requires the supervision of a qualified health practitioner. After many years in practice I am now offering the support for this program at NO EXTRA COST TO YOU. You will only have to purchase the recommended program kit. But there is no extra charge for my time setting you up on the program once you've purchased the product kit. And I will provide all of the support you need while on the program through my patient portal by secure chat. There you can chat with me or others that are following this protocol. You will also receive the Detox 360 Handbook that includes recipes and handouts that will make this program successful and as easy as can be.
Experience headaches or migraines?
Feel fatigued and sluggish?
Have aching joints and muscles?
Feel your weight is getting out of control?
Feel unfocused and foggy?
Have digestive problems?
If so, the Detox 360°™ program can help renew your sense of well-being. Read about the unique multi-pronged approach in this program and learn why Detox 360°™ is different from other detox methods.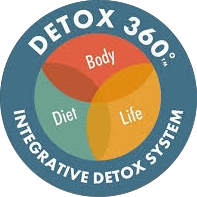 Why should i detoxify?
Never before in human history have we been exposed to so many environmental toxins! The air we breathe and the chemicals in our food, water, houses, and workplaces, as well as the various products we put on our bodies, all expose us to environmental toxins. Low-level bioaccumulation from multiple sources, building up year after year, increases our toxic load. This may result in symptoms such as fatigue, rashes, brain fog, etc., manageable at first, but then gradually may result in degenerative disorders, autoimmune, neurological dysfunction, and hormonal imbalances. Our bodies are equipped to neutralize these toxins and clear them out or store them.
Our detoxification organs—kidneys, liver, lymph, lungs, intestines, and skin—work hard each day to address such exposure. However, due to factors such as genetics, stress levels, dietary issues, lifestyle practices, nutritional balance, and exposure levels, our ability to neutralize and excrete these toxins may vary. Unless we take active steps to address toxic exposure, our health may be affected to varying degrees.
The best approach is to fight this problem on many fronts. A simple cleansing diet or supplements, although helpful, may not be enough to make a major difference. The Detox 360°™ program has been designed by healthcare and nutrition experts to provide a coordinated, multifaceted answer.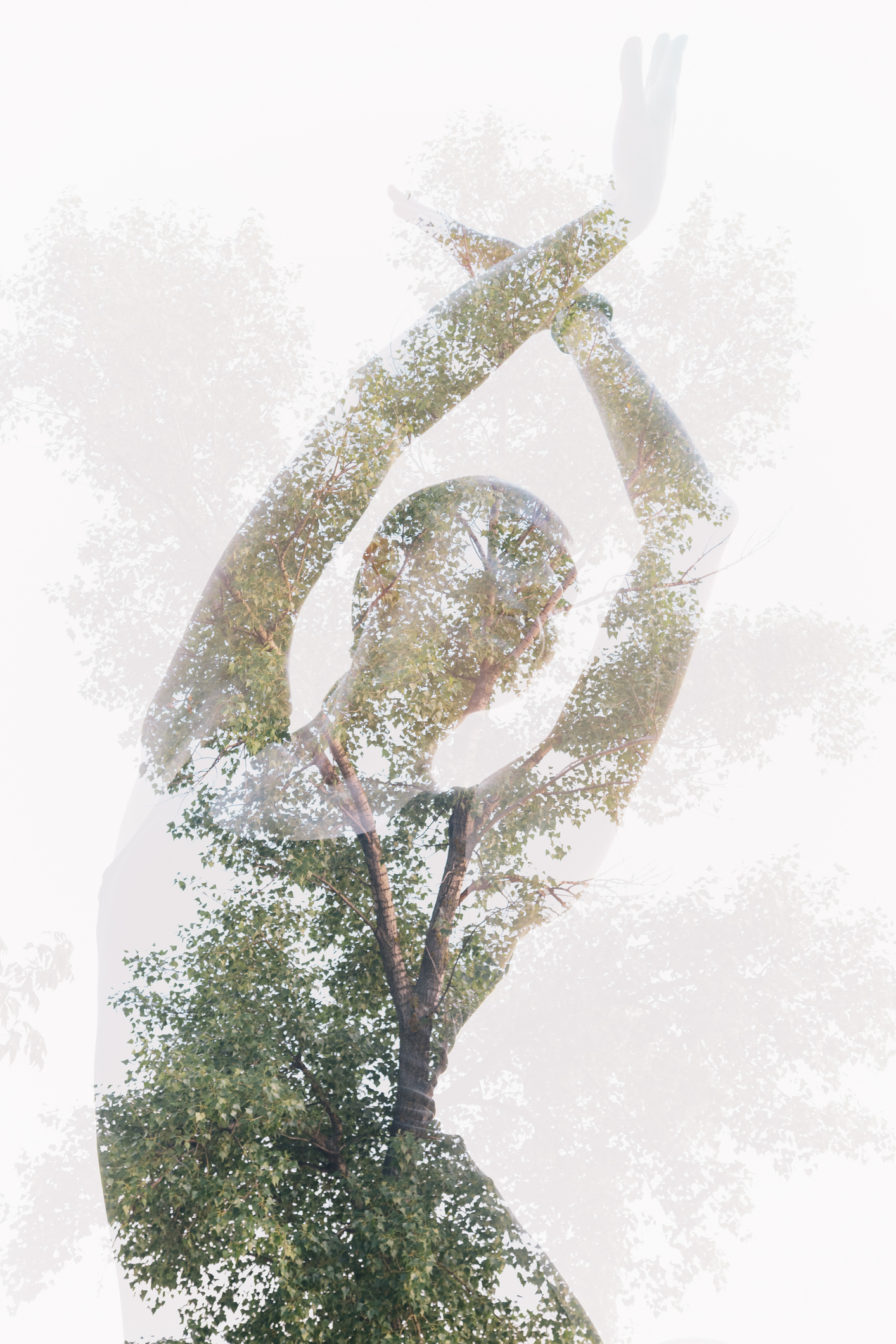 More Than a Cleansing Program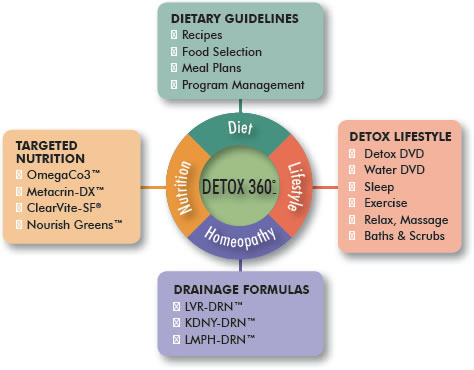 Detox 360°™ is a multifaceted foundational system, which incorporates many important clinical considerations in its planning and design. It addresses several key areas such as allergies, inflammation, toxicity, systemic and metabolic stress, mental-emotional stress, susceptibility factors, and much more. It is primarily a lifestyle-changing program, which helps anchor health-promoting habits and dietary adjustments that can become a new way of life, or may be used periodically to take advantage of its dramatic benefits. It can be used as a stand-alone program, or in conjunction with the therapeutic regimen recommended by your healthcare practitioner. The goal of Detox 360°™ is to provide a clinically tested system of dietary and lifestyle recommendations, with supportive formulas, which when used together, will have a significant impact on your health.
This 4-week program includes educational DVDs, a highly detailed manual with easy-to-use food guides and recipes, daily journals, detailed explanations of toxicity sources, detox mechanisms, detox-promoting lifestyle practices, targeted nutrition, as well as supportive therapeutics. You are taken through a simple, step-by-step approach with clear explanations of how to complete each week's regimen.
About the Detox 360°™ Process
In just a few weeks, you can begin to experience results and look forward to continued improvement. The Detox 360˚™ program includes:
Dietary support of the body's detox processes, emphasizing whole foods and eliminating known inflammatory and allergenic foods

Lifestyle practices, such as regular exercise, healthy sleep habits, etc. that support detoxification

Support of liver detox pathways
Stimulating kidneys, lymphs and liver through physician-formulated homeopathic drainage formulas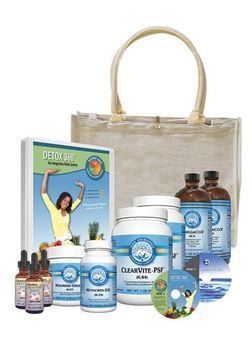 Detox 360 Kits
If you only need to refill your orders for Apex Energetics products, like ClearVite, you can go straight to the store. Be sure to login in order to shop for these products.
buy the kit and get the program for free!
The Detox 360 Program is a full service program that provides all the information, recipes, menus and support from the Clinical Nutritionist that you need while following the protocol. You only have to purchase the recommended products (Detox 360 Kit), and create an account on my patient portal.
Please call +1 (956) 267-4880, or chat online with me using the chat bubble below if you have any questions. Otherwise, click the JOIN NOW button to sign up for the program and get started with supporting your liver detoxification! There is NO FEE to get started.